*(Note: I'd like to share this article from my husband, Tony. I think you'll see how well it ties in with the health and wellness I talk about.)
The moment you were conceived, you were given the indescribable gift of life.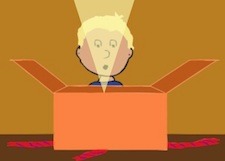 It's an indescribable gift because no one can truly describe life. In fact, to merely "describe" it somewhat implies we have a good understanding of what it is. I believe we can perceive life, but we can't really describe it. How many times have you heard the age-old question, "What's the meaning of life?"
We fragile human beings hurl ourselves at the future oftentimes without genuine appreciation of the now. And now is the only place in time you can function. Certainly we can know we have a past, but we can never go back there and change even one millisecond. We also have a future, but the only control we have over it depends on what we do with "now".
Right now, do you love yourself? Seems like a question of arrogance doesn't it? It's really not. Even God says you are to "love your neighbor as yourself". Simply put…we are to love ourselves. Not as the world might have you believe, but with respect to and for the indescribable gift of life we have from God. I'll bet you feed, water, and groom yourself. Right? You make sure you stay warm in winter and cool in summer. You clothe yourself and you've given yourself many, many gifts.
And you absolutely should do these things.
And you should seek to do them for others as well. Remember…your neighbor, whether it's next door or thousands of miles away, has been given the indescribable gift of life, too. But maybe their life isn't going so well right now. Do what you can to comfort them, and if they're willing, share some things they can do to be healthier in body, soul, and spirit. Show them how what they eat directly affects their body. Share with them how what they feed their eyes and ears directly affects their soul and spirit.
This doesn't guarantee a changed heart, soul, or person. But even if they refuse to hear, receive, and implement the information, you're still doing what God would have you do. And that shows how you appreciate what He's done for you. As the Apostle Paul wrote in 2 Corinthians 9:15 "Thanks be to God for His indescribable gift".
In Faith, Hope, and Love…

"Energize & Revitalize"

" The Real Foods Girl"
Young Living Essential Oils Independent Distributor in Denver: #1421646
P.S. My essential oils can be yours, too. 

Just so you know…that's my affiliate link for the Vitamix Blender, and I do receive a commission if you buy. But it doesn't cost you even one penny more.
Click Chuck & Christie's picture for my affiliate link to the awesome Total Gym!

* Disclaimer: I'm not a doctor, naturopath, or any other kind of practitioner. So don't construe my suggestions as any sort of diagnosis, prescription, or other professional opinion. I just know great information and great products when they work.